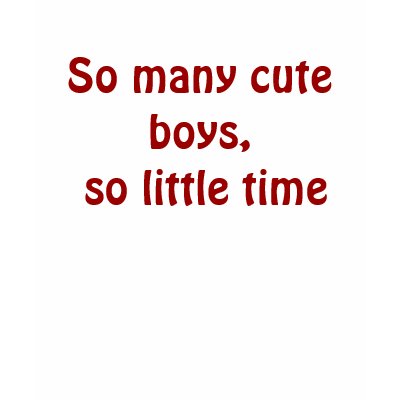 I love talking about boys. If you know me, you knew that already. And since I'm taking Lortab tonight my filter is turned off and I feel like sharing!
I have 2 active crushes on 2 very different men this week. That hasn't happened in forever. 2 at once! One is a very sweet guy that I am friends with. When we first met he showed some interest, but no action. There was some flirting and after a few drinks one night he hit on me. Sadly, he's been sober ever since. We're most definitely in the "friends zone," but I like to think there's still a chance that could be stopped. I get the impression he's interested, but there's something holding him back. Maybe I just need to get him drunk again and take advantage of him?
The other guy is fairly new. You know I have to be on Lortab to admit that I met him on eHarmony. I don't know why I'm always so embarrassed to admit we met through
online dating
. But there it is. Who are we kidding? I work from home (so no co-workers), and I go to a family church (no
singles
). I never meet new people, let alone singles! The internet is my last and dying hope. And hell, I work in social media. I'm the only person alive who can honestly say they made a career out of figuring out how to talk to boys online. So anyway, back to the cute new guy. We've emailed, texted, and called, but we haven't yet met in person. He has lots of great qualities, and I'm looking forward to it. And did I mention he's just adorable to look at? Actually both guys are quite adorable. How's a girl to choose between adorable and adorable?
Clearly I'm not very good at
dating
and
flirting
. I'm 34 and very very
single
. And so very over it. But it really would be nice if a guy could show interest in me without the help of Jack Daniels, or the safety of indifference on the internet. Whatever happened to good old fashioned spotting a girl across the room, smiling at her, and asking her out? I can't even remember the last time I met a guy the good old fashioned way.